Diaspora Voting is Critical for Albania's Future
Democratic countries have political institutions that reflect the will of their citizens, and not the will of political leadership. Unfortunately, Albania is not one of these countries. Half of all Albanian citizens live abroad and most of them cannot easily vote, and none vote directly for their representatives in parliament. Will this finally change in 2021? Yes, no, maybe? If the past is any indication of the future, then the final answer will be a resounding NO, but the answer should be YES for many reasons.
Increasing diaspora participation in elections would make it possible for over 1.4 million Albanian citizens who live outside the country to vote, and would increase democratic legitimacy in Albania. As stated by the Albania's State Ministry for Diaspora in July 2018, "it is deemed that elections in Albania and the institutions deriving from them have incomplete 'legitimacy''.
For a country such as Albania, the inclusion of its large diaspora in the political process represents an opportunity to increase the sense of Albanian identity around the world. Everyone should want an Albanian Diaspora that is strong and influential like the Irish, Indian, and Israeli diasporas, which maintain and strengthen their political, economic, and social connections to the homeland. None of us should accept the idea of a weak diaspora and a weak country like we do now, and which is likely to be the case forever so long as both groups play as if they are in opposing teams.
Voting is the most basic form of political participation, and the best way to make the voice of Albanian diaspora heard. Without diaspora voting there is less incentive for the diaspora to strengthen itself and for the diaspora and all institutions inside of Albania to work together for a better Albania. It just won't happen otherwise.
Providing opportunities for exercising the right to vote indicates the State's interest in treating all citizens equally, regardless of where they live, and its interest in improving the quality of life for all of its citizens. As stated by the Venice Commission, "The European Commission for Democracy through Law suggests that states, in view of citizens' European mobility, and in accordance with the particular situation of certain states, adopt a positive approach to the right to vote of citizens living abroad, since this right fosters the development of national and European citizenship." Or, to put it more bluntly, without serious diaspora engagement Albania will likely never join the European Union — and it would be naive to believe it will.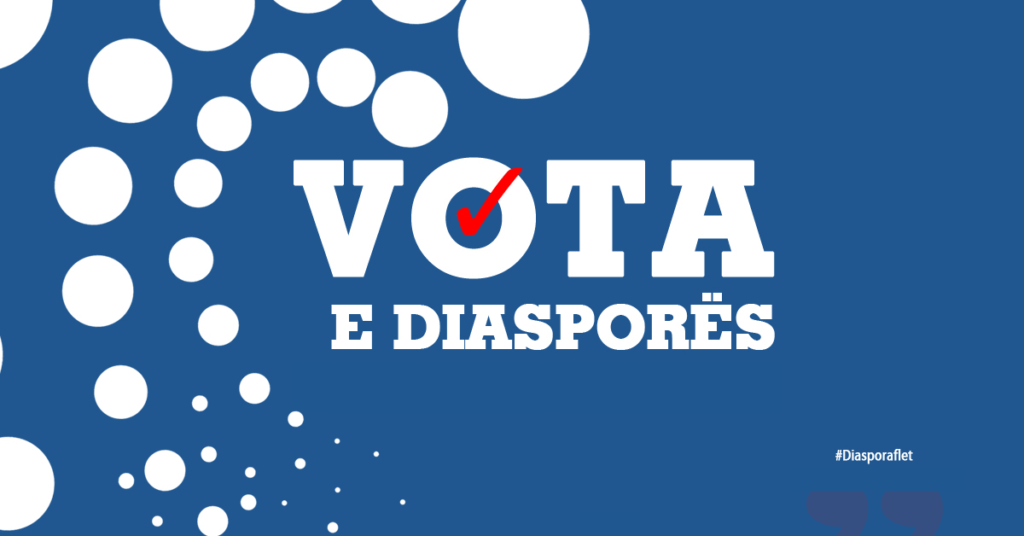 Where Are We Now
When electoral reform began, there was hope that out-of-country voting and open list voting would be addressed in revisions to Albania's Electoral Code. In fact, the importance of the diaspora vote was acknowledged during the second Albanian Diaspora Summit in 2019, when Prime Minister Rama and State Minister for Diaspora Majko, promised to address this issue in a timely manner.
Yet, last week, leaders of Albania's major political parties reached agreement on principles of electoral reform, but so far there is nothing more than promises about diaspora voting or open list voting procedures — the two most important issues to ensure that the voice of the people is heard.
Does this mean these issues are unimportant to Albanian political leadership or does it just mean that they will be addressed at a later date through revisions to the electoral code as has been suggested by some political leaders? Is there enough time to adequately address all of the legal and technical issues before the 2021 elections? It's time that the political leadership in Albania clearly and publicly answers these questions. Without answers, the deep skepticism and lack of confidence that Albanians inside and outside of Albania have for their political leadership will worsen and further undermine Albania's future.
Moving Forward on Electoral Reform and Diaspora Voting
To begin to address these issues, political leadership from all major parties in Albania should:
Ensure that at the very minimum that voting by mail will be available to all Albanian citizens throughout the world for the 2021 elections, and create a working group that includes members of the Diaspora that will monitor that all procedures for voting by mail will be undertaken in a timely manner to ensure realistic and smooth implementation;

Guarantee that the proposed working group will consist of government and election commission officials, members of the National Diaspora Coordinating Council (which has launched an

online petition supporting Diaspora Voting Rights

), leaders of diaspora organizations which have prepared

written analysis on diaspora voting

, and at large members of the Albanian Diaspora;

Implement

measures recommended by the State Ministry for Diaspora

to the Parliamentary Committee for Electoral Reform which appear to have been neglected despite a

comprehensive analysis done by the State Ministry for Diaspora

, and ensure that the necessary financial resources are made available for electoral reform

Organize a public meeting to discuss electoral reform and out-of-country voting with interested Albanian Diaspora organizations, leaders, other unaffiliated members of the diaspora, and representatives of the international community;

Carry out a professional survey of Albanian Diaspora members of voting age to better understand their concerns and needs so that they can be taken into account in formulating diaspora voting policies and procedures for the 2021 general elections; and

Work together with organizations in Kosova and other countries who are familiar with diaspora voting issues, and can advise Albania on how best to implement a program for out-of-country voting during the next 12 months.
What Does the Future Hold
The general elections in 2021 are crucial for Albania's future. if they are not based on serious electoral reform that reflects the will of the people and the diaspora voice then Albania will miss a golden opportunity once again. We hope instead that true reform will usher in a new and more open democratic era in Albanian politics.
Maximum voter participation in the next election will increase the legitimacy of Albanian political institutions. However, this will only happen if Albania's political leadership implements serious electoral reform that respects the rights of all citizens by including out-of-country voting and open list voting for deputies in Parliament. Anything short of that will be a democratic failure that the people of Albania and the large Albanian Diaspora will not accept or forget.
Over 150 hundred countries around the world have diaspora voting and over 40 in Europe — and Albania is not one of them. It is time for Albania to change that, as it seeks to become a modern nation worthy of EU Membership. It's time for Albanian political leadership to stop fearing and largely ignoring its diaspora and fearing electoral reform, and instead embrace them as necessary for a brighter Albanian future.
Further, considering the lack of economic dependency of the Albanian diaspora on Albania's political parties, and its strong position against corruption (including in Kosovo), diaspora voting would exert much needed pressure for democratic reform. It would help to drive democratic, economic, and social change that will be required for Albania to some day join the European Union.
The millions of Albanians who live outside Albania are a great untapped potential for Albania in our increasingly connected global world. Will Albania continue to be like a weak soccer team with only half of its players in uniform — including some of its best players — because it does not have team management which appreciates the value of all of its players? Or will the management finally wake up and realize the team can be improved? We will soon find out, and we and hundreds of thousands of Albanians around the world are ready to play no matter what the management decides.
June 10, 2020