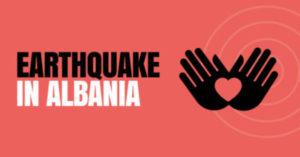 The Global Albanians Foundation
Germin
Massachusetts Albanian American Society
Preliminary Strategy for Earthquake Relief Efforts December 12, 2019
Introduction
We will develop a more complete strategy in January.  We would like to emphasize now that:
 All money raised in December will go towards earthquake relief efforts in 2020 and beyond and nothing else;

We are not going to rush to spend the money we raise.  It is better to do good work slowly than bad work quickly;

We realize there are immediate short-term needs in Albania and many good organizations working to address these needs.  We plan to provide a few small grants in December to assist with these needs.

However, we have not yet developed the capacity to evaluate the situation thoroughly, and therefore think we can accomplish more by focusing on the medium and long-term impacts of the earthquake.

We want to use our earthquake relief efforts to catalyze long-term and sustainable engagement of the Albanian Diaspora.  We don't want to just spend the money and leave.
Goals and Objectives
We plan to focus our earthquake relief efforts on three broad themes:
By focusing on the themes above we can better ensure our priorities are met and that everyone in the Global Albanian community understands what we will do and will not do with regard to specific projects.  We will seek out partners in Albania and in the international community to work with us on projects related to the subjects above. Only then will we be able to elaborate further how much money will be spent on which projects. 
In addition, we plan to launch an Online Crowdfunding Platform in 2020 on which organizations can directly raise money for their own earthquake relief projects. Organizations will be required to submit standardized applications to use the platform and to sign contracts regarding reporting requirements. No organization will be allowed to use the platform before the organization is thoroughly vetted. 
The Online Crowdfunding Platform will allow future donors for earthquake relief efforts to support individual projects under the themes they want to support and in the places they want to support. The Crowdfunding Effort will be similar to the platform we had developed and were planning to announce until the earthquake hit. 
Action Plan for January 
Finalization  of Strategy
Possible Implementation of Small and Simple Projects
Coordination with other Diaspora Stakeholders through a Virtual Meeting
Begin to Organize a Possible Diaspora Conference Based on the Results of Virtual Meeting
Communicate Next Steps to All Donors and Partners
Statement of Trust
Please understand that doing good work takes time and we want to be thorough.  We want to respect the trust that over 2000 individual donors so far have given us by being careful how we spend the money raised so far and to be raised. Additionally, we want to ensure that the money being spent does provide an impact on the ground.
Thank you very much for your support, and we look forward to continuing to work together with all of you in the Global Albanian Community to assist Albanian earthquake victims. Please feel free to submit any ideas, comments, or suggestions you might have to [email protected].
Global Albanians Foundation Board of Directors
Global Albanians Foundation Advisory Board